Fitness Classes & Personal Training
Fitness Classes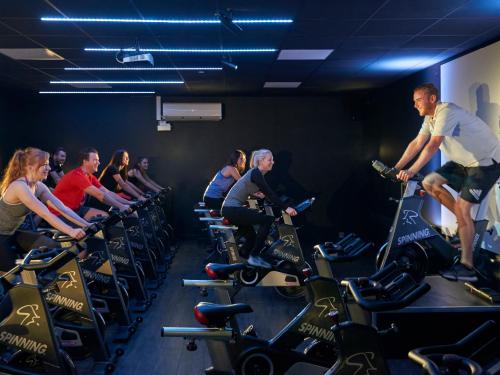 Tone up with one of our fitness classes! Run by our friendly team, we'll inspire you to spin, stretch and flex your way to feeling and looking great. Classes are free for Leisure Club Members and £4 for hotel guests, or £5 for Zumba classes.
Spin Studio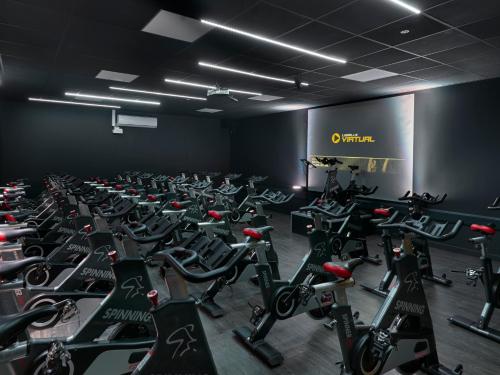 In our state-of-the-art spin studio, with a high-tech sound system, you're sure to work up a sweat riding to beats specifically chosen to enhance your workout. There's also a new and improved lighting system, making the classes vibrant and bringing a new energy level to each and every class.
The specially designed spin studio holds 30 Star track spin bikes, allowing space for more people to experience a head to toe workout. Join us for a high energy class in our high tech studio, where our dedicated leisure team are on hand to ensure you get the best out of your workout.
TechnoGym Excite Climb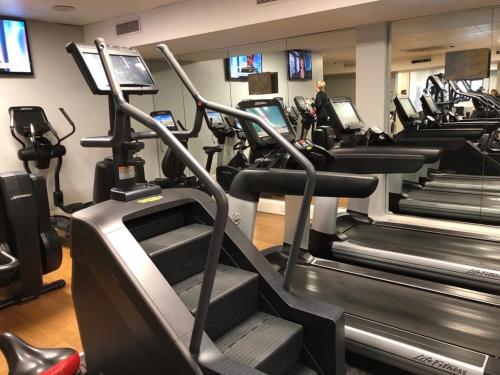 The new TechnoGym Excite Climb, is the latest addition to The Belfry Gym. This break-through piece of equipment transforms this stair climber into one of the most sought-after pieces of cardio-equipment.
Features includes:
Variety - with at least 3 steps always available, it enables users to perform a wider range of exercises
Easy to use - The low Courtesy Step makes climbing comfortable for whatever your height.
Entertainment - Ever-changing landscapes and the option to join up with friends & workout
Summer Body Blitz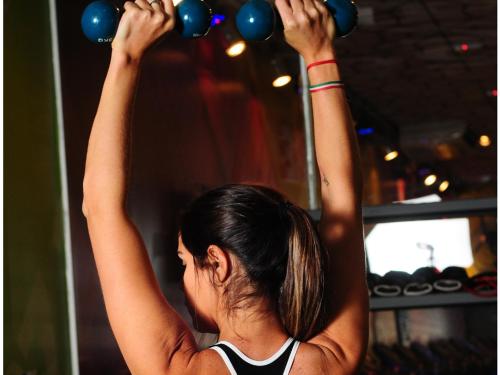 Get ready for the summer with our 12 week transformation programme including 12 Personal Training sessions for just £299 per person.
Available Monday - Thursday. Valid from Wednesday 1st May - 31st July 2019. Cannot be used in conjunction with any other offer. Standard Belfry Terms and Conditions apply.
For more details, please talk to our Leisure Club team or call us on 01675 238 600.
Personal Training
Whatever your reasons, personal training can help everyone. We can help you to improve your fitness levels, kick-start your motivation, reduce fat and weight, improve your muscle tone and generally help you to be fitter and healthier. Whether it's for a particular sport or to push your training to another level we have a trainer for you, just speak to a member of the team to help identify your goals and find the perfect trainer. The sessions are designed to be motivating, exciting and fun and aim to fit in with your lifestyle, work and home commitments, so you maximize time and ultimately achieve your goals.
Kick Start Session | 1 hour session
Get your training back on track with this one hour personal training session.
Designed to re-motivate and re-engage your training mind-set to achieve great results.
£35 per person
Total Body Re-Shape | 6 or 12 x 1 hour sessions
Choose from a 6 or 12 week total body overhaul! Ideal for those who want to change their body shape, build muscle or drop body fat.
6 x 1 hour sessions - £165 per person | 12 x 1 hour sessions - £300 per person
Rapid Results | 8 x 1 hour sessions
A 4 week intense programme consisting of 2 x 1 hour sessions per week over 4 weeks.
(please note, all sessions must be taken within 4 weeks from the date of commencement)
£200 per person
Small Group PT | 1 hour group session
Single 1 hour structured group PT session for up to 3 people. Split the cost and enjoy the savings!
Group of 2 - £18 per person | Group of 3 - £13.50 per person
For more details, please talk to our Leisure Club team or call us on 01675 238 600.