Custom Golf Club Fitting Service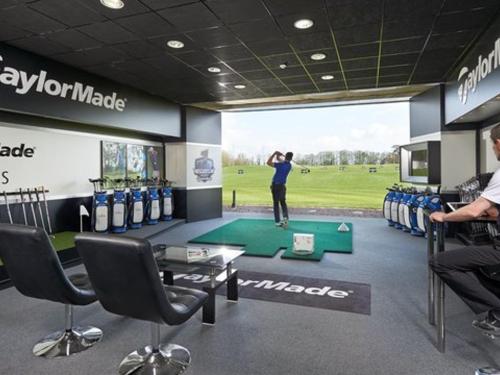 The Belfry Golf Shop
offers a custom golf club fitting service at the PGA Golf Academy just outside Sutton Coldfield. Custom fitted golf clubs are clubs made to your personal specification that work in unison with your height, swing speed, and technique to improve the aim and distance of every shot. Once only a luxury for the professionals, custom golf clubs are increasingly popular and widely available to amateur players. If you're looking to improve your handicap, a custom set of golf clubs could be for you.
To book your Custom Fitting appointment, call 01675 477 038, email golf.academy@thebelfry.com or complete our enquiry form below.
6 Reasons to get Custom Fitted Golf Clubs
Take a look at these other great reasons to invest in a custom set of clubs:

Fit to your swing: As an amateur, it's harder to adapt to different golf clubs, so it is essential they are fitted to an individual swing.
Benefit from technology: To gain the maximum benefit from the latest golf technology every player must have the correct loft, lie, length and weight of clubs to suit their swing.
Understand your game: The custom fitting process can help develop a greater understanding of your own game and how your biomechanics can influence selection of the most suitable clubs for your game.
Gain confidence: Knowing that you have been correctly fitted with clubs to suit your swing should provide you with the confidence to commit to each swing and play to the best of your ability.
Adapt to your ability: As physical and golfing abilities change over time, so do your club requirements, it is essential to be fitted for each new set that you buy.
Back up your investment: Custom fitting is free of charge when purchasing a new set of clubs. So, if you're making a sound investment on new hardware, it makes sense to ensure your money is being spent on the best golf clubs for your game.
Enquiries
You will now be added to our mailing list to receive information on offers, competitions and events at The Belfry. if you would like to OPT OUT please indicate this in the message box above.
Here is what our expert golf professionals will go through with you during a personal golf club custom fitting session at the PGA National Academy:
Consultation: Discussion with the pro to allow them to get a better understanding of your game and future golfing goals
Assessment: Assess the current clubs that you are using and take any necessary body measurements to help guide the process
Model Selection: Based on the data captured so far, the pro will discuss the most suitable models and shafts for your game and narrow down the options based on your preferences for looks and feel
Testing: The pro will now capture data as you hit each of the suggested clubs, helping them to dial in the best specifications for your game (in terms of loft, lie, shaft flex, models, weight settings etc.), whilst also discussing which ones you prefer
Gapping: This an important part of any fitting to ensure that you are able to hit your clubs to adequate distance gaps, so that you have a suitable club for each shot you face out on the golf course
Fine Tuning: Once you are both happy with the model and specifications selected, the pro will discuss the final details of your clubs in terms of grip selection and any additional customisation options you may require
Order Creation: The Belfry pro will then create and submit your personalised order and you will be able to collect your new golf clubs from The Belfry Golf Shop